Congrats on landing an internship—you're on your way to first-hand job experience and insider connections! How can you make the most of your hard work and upgrade from intern to employee? (Because let's be real: no one wants to go back to job searching.)
Employers are well aware of the benefits of hiring interns: fresh enthusiasm, new ideas, and a willingness to learn. We'll teach you the top principles for not throwing away your shot as illustrated by Alexander Hamilton (as told by the musical—sorry, history buffs!) so you can blow your employers all away!
Communicate clearly that you want to go from intern to employee.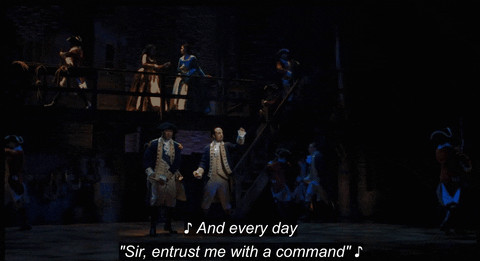 Hamilton clearly asked for a military command in the war, but he didn't get it. That may happen to you, but communicating your aspirations lets your higher-ups keep you in mind if future positions do open up (as happened with Hamilton, too).
You might feel embarrassed to say to your boss, "I want a full-time job here." But employers can't read your mind. Interns work for a variety of reasons:
Short-term experience
Stepping stone towards a different company they want to work with
Making their parents happy with how they're spending their summer break
How do your employers know you're serious about going from intern to employee in this company in particular?
Don't be afraid to tell your boss and HR manager that you're hoping for a full-time position after your internship. But be understanding, not demanding—even if they don't have the resources to hire you now, they can still let you know later if a position opens up. It's worth letting them know, even if you have to wait for it.
Build relationships within your company.
Skills will get you far; relationships will get you farther. Even though Washington refuses Hamilton a military command, their relationship leads Washington to hire Hamilton as post-war Secretary of the Treasury.
So, get to know the people you work with and even some people you don't! Getting to know your colleagues:
Integrates you into the company team
Helps your colleagues remember you
Keeps open doorways to future opportunities
Gives you references for future job applications, even if you don't get hired here
Show you're a great fit with the team.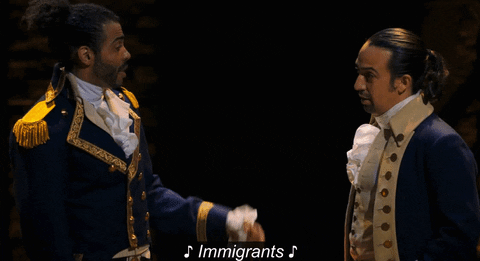 When he meets Laurens, Mulligan, and Lafayette, Hamilton demonstrates how well he aligns with their values, thinks up revolutionary new ideas, and shares their passion for freedom. Their teamwork spurs them to accomplish much for the revolution. And even though Hamilton's rival, Burr, approaches Washington with his own ideas for the war, Hamilton becomes the right hand man, simply because he fits Washington's needs better.
Teamwork gets the job done, and employers like to see the job getting done. So, show that you're able to get in rhythm with the rest of the team! When you interact, consider how to share how compatible you are in the following areas:
Values
Working styles
Listening skills
Personality
You don't want to feel like the proverbial square peg if you want to work there long-term. And if it turns out that you don't feel like you fit well with this company's culture, at least you're only there for short-term.
Be non-stop proactive.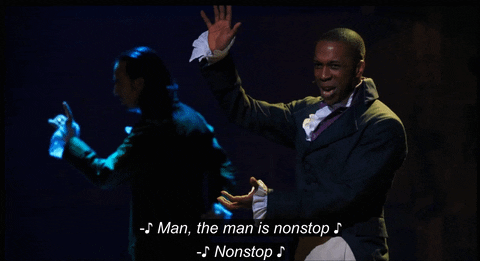 From stealing British cannons in the war to writing twice as many of the Federalist Papers as he was assigned, Hamilton addressed needs that weren't in his job descriptions and caught the attention of higher-ups.
While stealing a cannon won't get you anywhere but a jail cell today, keep your eyes open for how you can address your company's needs.
Can a process be streamlined better?
Is communication unnecessarily clunky?
Is your colleague's cubicle covered in three feet of papers that need shredding?
Show your willingness to help out more than you're required to—your colleagues will thank and remember you.
Forming relationships also takes proactivity:
Think of career questions to send your colleagues
Ask about something they like that isn't related to work
Buy them coffee or lunch
Have a great attitude of confident humility.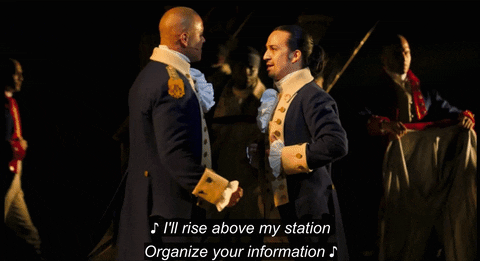 Hamilton "wants to fight, not write," but he applies himself to his position as strategist and secretary, recognizing that even if the position isn't ideal, he would be throwing away his shot to not take it.
As an intern, confidently show you can contribute ideas and good work, but also humbly recognize your colleagues' experience. Ask your managers for feedback, since they may hesitate to tell you at first. Let your higher-ups help you know how to be as hireable as possible!
Don't feel entitled to only working on prestigious tasks. Yes, shredding papers and buying coffee is stereotypical for interns, but even if you end up with tasks like that, be satisfied with how they can help your team move forward in the bigger picture, even if they seem menial.
Be indispensable.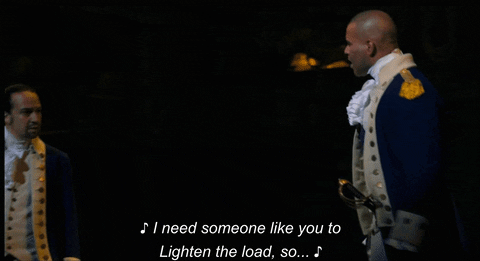 Hamilton makes himself indispensable to Washington in the war, so when Washington becomes president, he recognizes that Hamilton can lighten his load in political pursuits as well.
You want your team to feel a bit helpless if you're gone—to think, "Man, now I have to deal with the stuff our intern helped me out with now?" or even just to miss the good attitude and friendly spirit you brought to the team. If you can show that not hiring you will cost the team more than hiring you, you've built a great case to employ you for the long run.
Stay in the room where it happens!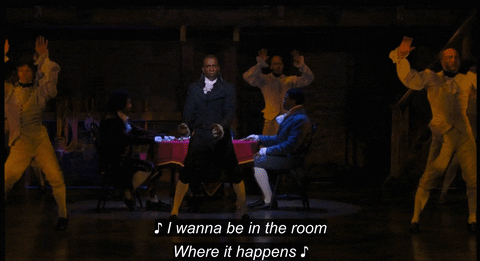 The principles for moving up stand firm across every century: be memorable, be proactive, and communicate clearly, and an employer just might not be able to say no to you.
Even if you don't end up with an employee position right away, your team will remember an intern who fits in well, does good work, and proactively meets needs—and being remembered keeps the door open for future opportunities, whether from volunteer to intern, intern to employee, entry-level to associate, or associate to senior.

Want more tips that'll help you rise up from intern to employee? Stalk us on Instagram, or contact us with your questions today!
Meet The Author  - Cat Movius | A former career YouTuber & now a scientific writer, Cat has experienced the complications of following your dreams, shuffling life priorities, and making difficult career transitions. When she's not writing; she loves singing, playing video games with her husband, and eating cheesecake.