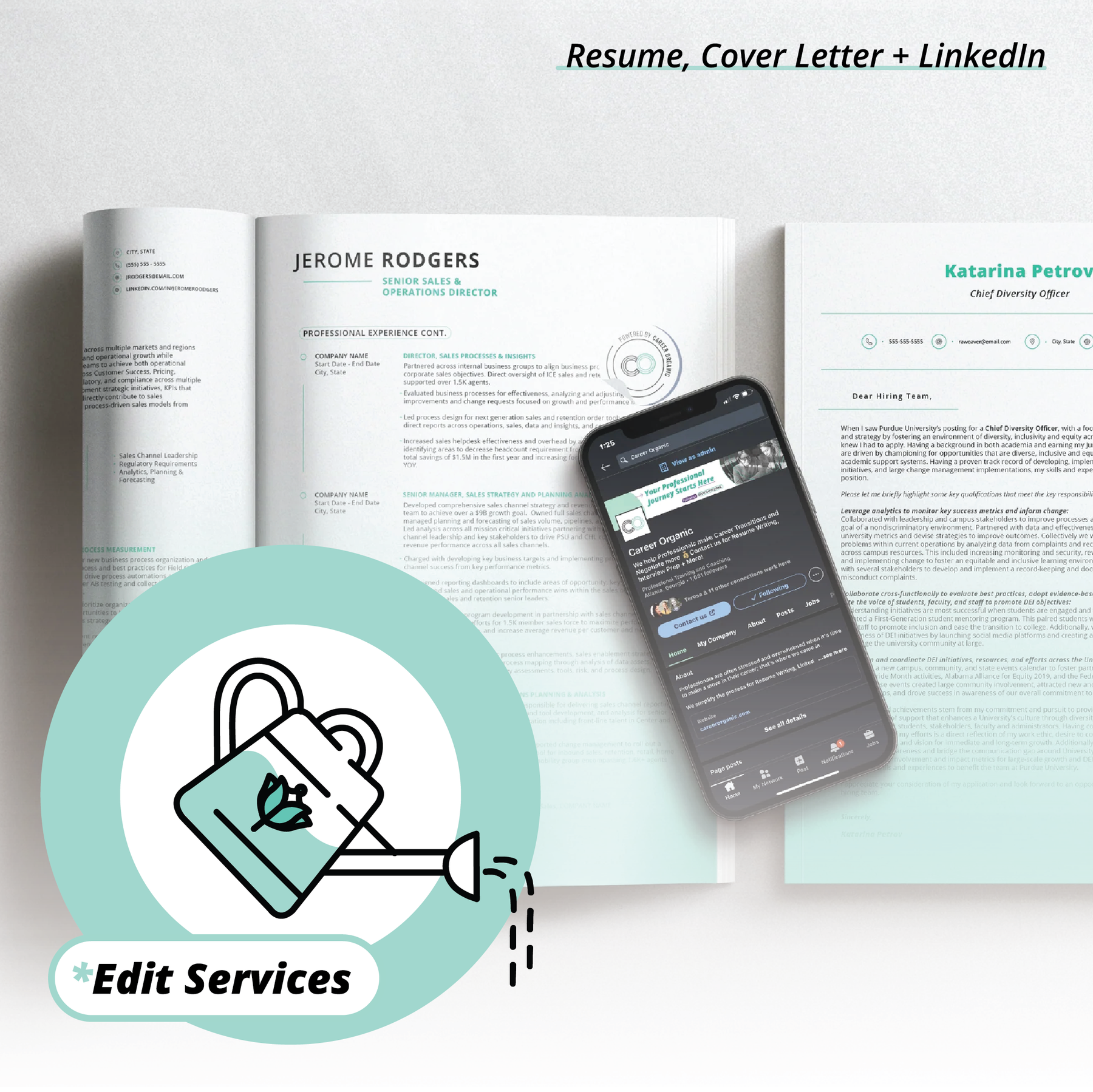 Resume, Cover Letter + Linkedin Edit Service
Looking for a service that polishes every aspect of your job application? 
Look no further. Our team is here to provide you with top-notch resume, cover letter, and LinkedIn editing services so you can fine-tune your existing brand to stand out in a competitive job market. 
⏳ Edits will be sent within 7-10 business days after resume submission. 
You Will Receive - 
An instructional PDF that provides tips and guidance on how to craft an effective resume 

Two ATS resume templates that you can use to showcase your skills and experience. 

Review + Resume, Cover Letter + Linkedin Edit from an experienced career expert. 
🌟 Disclaimer 
To use our service, you must submit your resume in a Word document - we will not accept PDF or Pages files. 

Additional Revisions not included outside of the one edit
While we recommend using our template for best results with the ATS, we understand that some customers may prefer to use their own formatting. As long as we can edit the document, we are focused on the content, not the formatting. If you do choose to use our template, we can provide additional formatting guidance to make sure that your resume looks polished and professional.
🌟 Note 
The Resume, Cover Letter + Linkedin Edit Service is specifically designed for individuals who already have a well-crafted Resume, Cover Letter + LinkedIn but need assistance in making small tweaks to make them even more effective. Our service is NOT intended for individuals who need a completely overhauled Resume, Cover Letter or Linkedin or who need help creating new ones from scratch.